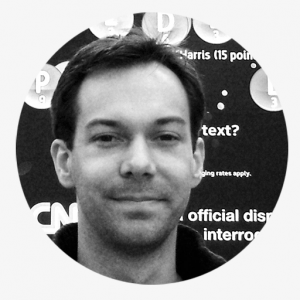 UX Manager & Designer. Creative. Strategic. Pragmatic. Observer. Listener.
I love to create engaging products and services. Enhancing existing ones based on various (user) data, or from scratch until the final stages of development.
My belief is that users fall in love with a product because it 1. suits their needs and 2. because it is an engaging and memorable experience. My mission is to create THAT experience. Coming from a background in animation/storytelling and interaction design helps me to be succeed in that mission.
Currently I'm Design Manager for the Families UX team at Booking.com. Facilitating design processes, managing performance and the UX strategy, empowering the team (and its members) to do their best work, whilst being engaged and having lots of fun in the process.
At home a lot of time is spend with my wife and my 3 kids. If I have any time left I'd like to play (board) games, watch movies, and when the weather is good I go outside on the skates. I occasionally like to play a game of squash too.
---
Quick Overview:
• Design Manager at Booking.com (2019 – present)
• Mobile App Designer & Team Lead at Booking.com (2017 – 2019)
• Senior UX Designer & Scrum Master at Quby (2012 – 2017)
• Motion Designer/director at DPI Animation House (2010 – 2012)
• Cinematics artist at Playlogic Game Factory (2007-2010)
---